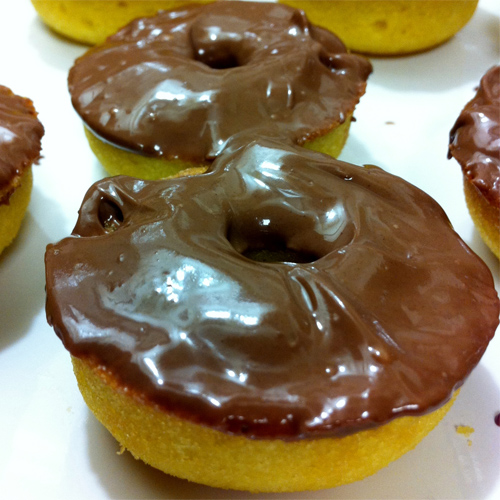 Little Gluten Free Donuts Recipe
photo by recipe author
Servings: 12
Preparation Time: 15 minutes
Donuts:
Glaze:
1/2 cup all natural milk chocolate chips
1/2 teaspoon coconut oil
Preheat oven to 400 degrees.
Prepare petite donut pan (12 donut size) by greasing lightly with coconut oil.
Beat all donut ingredients until well incorporated and fluffy. Divide into each donut well evenly – each well held approximately one tablespoon. Bake for 15 minutes or until very slightly golden brown. Cool slightly.
Meanwhile, make your glaze. In a small pan over very low heat add glaze ingredients and stir until melted.
Swirl the donuts one at a time into the chocolate glaze on the flatter side to get more coverage. Let set and cool for as long as you can wait.
Chocolate Variation: Add 1/4 cup cocoa to batter and bake exactly as above. I used only 1 1/2 teaspoons of powdered sugar to garnish and dusted the rounded side instead.
Recipe submitted by Kathryn, Carey, NC
Published on September 8, 2012