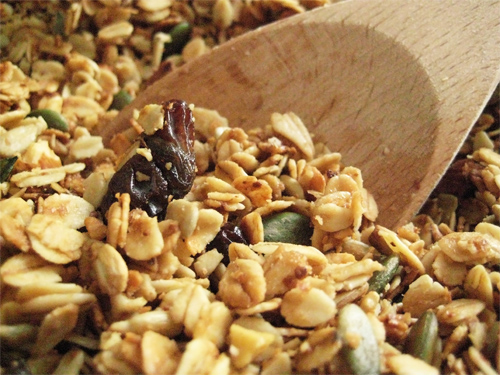 Loaded Coconut Oil Granola
Photo by recipe author
Servings: 12
Preparation Time: 10 minutes
4 cups oats
1/2 cup pumpkin seed kernels
1/2 cup chopped raw almonds
1/2 cup sunflower seed kernels
3/4 cup honey
1/2 cup coconut oil
2 teaspoon cinnamon
1 teaspoon vanilla
1/2 cup raisins or dried cranberries
1/2 cup roasted peanuts
Preheat oven to 350 degrees F.
Combine oats, pumpkin seed kernels, chopped almonds, and sunflower seed kernels in a large bowl.
In a saucepan on the stove, melt together the honey, coconut oil, cinnamon, and vanilla, stirring occasionally, until combined.
Pour honey mixture over oat mixture and stir to coat.
Spread oat mixture into baking pans (metal pans cook faster than glass). Bake for 20 minutes, stirring every 5 minutes.
After baking, add dried cranberries or raisins and roasted peanuts. Enjoy granola with milk or yogurt and some fruit!
Recipe submitted by Rachel, Eugene, OR
Published on June 18, 2010