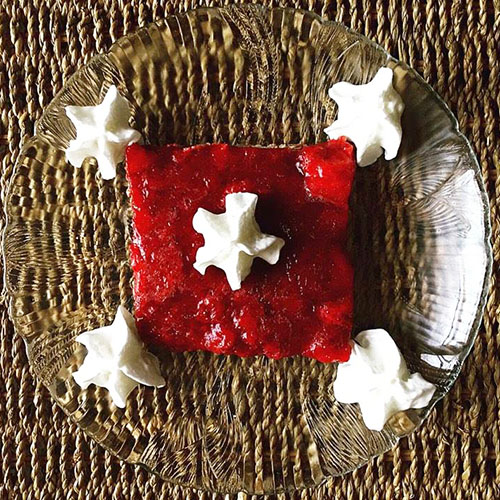 Low-Carb Strawberry Icebox Bars
photo by recipe author
Servings: 12
Preparation Time: 30 minutes
Crust:
Filling:
Preheat oven to 350° F.
Crust instructions:
Mix dry ingredients in a bowl. Add coconut oil and mix well to get a sandy texture.
Scramble eggs, then add to sandy mixture along with ice water. Knead to mix thoroughly. Spread out into 9×12 baking dish. Bake 15-20 minutes until done, edges golden brown.
Remove from oven and let cool while making filling (about 10-15 minutes).
Filling instructions:
Put lemon juice in small bowl, sprinkle gelatin over it to hydrate.
In a small pot, bring water to boil, then add hydrated gelatin/lemon juice mixture, and stir to dissolve gelatin.
Add strawberries, honey, and salt to pot, and bring to boil. Reduce heat and simmer for 10 minutes or until strawberries are soft. Let cool for about 10 minutes, then pour over baked, cooled pie crust.
Transfer to fridge and let chill for at least 4 hours, or until set firm.
Serve with whipped cream, if desired.
*You can grind your own almond flour by placing whole almonds in a blender/food processor and blending until you get a fine meal.
Recipe by Lynelle. Photo by Orissa. Submit your creative coconut recipes here for a chance to win $50!
Published on July 14, 2017