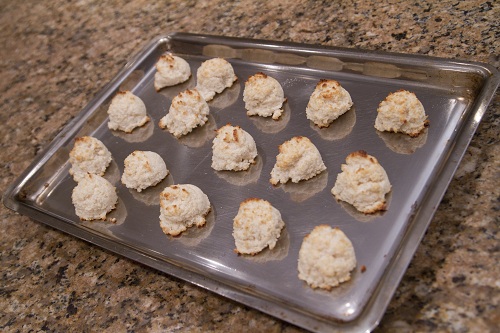 Macaroons from Coconut Milk Pulp
Prepared by Sarah Shilhavy, Photo by Jeremiah Shilhavy
Have you ever made your own coconut milk only to be left with a handful of leftover coconut pulp and nothing to do with it? It's too valuable to throw away, but what in the world are you supposed to do with it?
It's actually really simple. Just use it as you normally would use dried coconut. It's great in smoothies, granola, cookies, as a breading for meats, a treat for your pets (dogs, cats and horses love this stuff) – just be creative. The only problem would be that the coconut is now drier after getting blended, scalded, and squeezed to death during the coconut milk process.
But not to worry, some recipes will just need a little extra moisture. I adapted the Classic Coconut Macaroons recipe to work with the coconut pulp, and it needed very little tweaking. I used more egg whites then usual since the cookies came out too dry the first time. But other than that, it's pretty much the same. A double batch of the homemade coconut milk should give you a good amount to work with. But for those odd amounts that are "neither this measurement nor that measurement," just use regular
shredded coconut to make up the loss.
For this recipe, you need to dry the coconut first. Simply spread it out on a baking pan, pop it in a warm oven (100-200 degrees, however low it'll go) for 3 hours or overnight. You can turn the oven off after an hour or less and just let it sit until dry. It's not very picky. Here's a video demo showing you how to do this.
Enjoy everyone!
Sarah
Servings: approximately 1 dozen cookies
Preparation Time: 10 minutes
Preheat oven to 350 degrees F.
In a bowl, combine coconut, vanilla, salt and honey until well combined.
Beat egg whites until stiff peaks form. Fold into coconut mixture along with cream of tartar.
Scoop mixture into a cookie scoop and press unto a greased cookie sheet as you drop it (you can compact the balls or leave it fluffy). Bake for 10 – 15 minutes, or until browned.
Recipe courtesy Sarah Shilhavy
Published on April 15, 2011