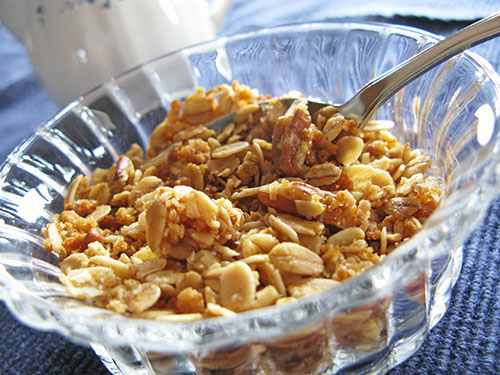 Maple-Pecan-Coconut Granola
photo by recipe author
Servings: 30 (1/2 cup each)
Preparation Time: 20 minutes
Dry:
8 cups rolled oats
2 cups puffed brown rice cereal
2 cups chopped pecans (almonds or walnuts)
2 cups unsweetened shredded coconut
½ to 1 cup brown sugar, depending on desired sweetness
Wet:
Optional:
2 cups dried fruit such as raisins, chopped dates, dried cranberries, dried tart cherries, etc.
Pre-heat oven to 275° F.
In a large bowl, combine dry ingredients.
In a separate bowl, combine wet ingredients, whisk until smooth. Pour over dry ingredients and mix well.
Spread onto two large greased baking sheets. Bake for 45 minutes, stirring 3 times, once every 15 minutes. Turn oven off and let granola cool in oven for 8+ hours or overnight, until completely cooled.
Stir in optional dried fruit now, if desired. Break granola up and store in an airtight container.
Enjoy your granola with one of these homemade non-dairy milk recipes:
Brooke from Springfield, MO won $50 for this recipe and photo! Submit your recipes here!
Published on November 14, 2016