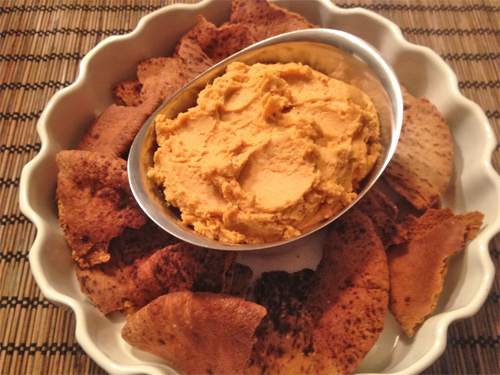 Maple Sweet Potato Hummus with Whole Grain Pita Chips
photo by recipe author
Servings: 4 cups hummus & 50 chips
Preparation Time: 45 minutes total
Hummus:
Whole Grain Pita Chips
1. Steam sweet potatoes in filtered water until very tender. Remove from heat and reserve 1/2 cup of steam water.
2. In food processor, combine remaining ingredients for hummus and process until creamy. Add reserved water (a little at a time) until desired consistency is reached. Set aside.
3. Preheat oven to 350 degrees. Combine spices and set aside.
4. Melt 2 tablespoons of coconut oil in small saucepan. Brush half of oil evenly over each pita and sprinkle combined half of spice mixture evenly over each pita. Bake in preheated oven for 10 minutes. Remove, flip pitas, and brush with remaining oil and sprinkle with remaining spice mixture. Place back in over for 10 minutes or until browned and crisp. Let cool.
5. Once pitas are cool to touch, break apart, and serve with hummus.
Recipe submitted by Kristen, Mattapoisett, MA
Published on March 12, 2012