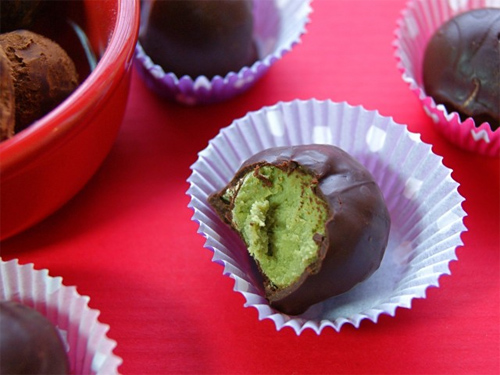 Matcha and Coconut Butter Truffles Recipe
photo by recipe author
Servings: 12
Pour the warmed coconut cream concentrate into a medium bowl along with the coconut cream (this is the solid layer on top of coconut milk – just scoop it off and leave the liquid layer behind).
Stir until blended. Add matcha and honey, tasting and adjusting to the level of "sweet" you prefer.
Refrigerate the truffle filling for 15 minutes, or until it is firm enough to roll into balls. Using your hands, roll the filling into small rounds, using about a tablespoon of filling per truffle. If you are going to dust them in cocoa, do this right after rolling and then refrigerate the truffles (I sifted some cocoa with a little powdered stevia, and used that to roll half of the truffles). If you want to dip them into dark chocolate, refrigerate for an hour after rolling so they will be firm enough to dip.
For chocolate-dipped truffles, break up your chocolate and heat gently in a double boiler or low flame until the chocolate is completely melted. Dip the truffles into the chocolate and then place them on waxed paper to cool.
Makes about two dozen small truffles.
* For the freshest coconut milk make homemade coconut milk. (See video at this link.)
Recipe submitted by Angela, Longmont, CO
Published on July 5, 2013