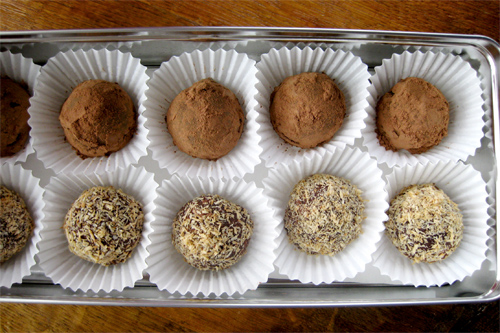 Melt In Your Mouth Dark Chocolate Coconut Oil Truffles Recipe
photo by recipe author
Servings: 18-25
Preparation Time: 25 minutes
For rolling truffles: toasted shredded coconut, cocoa powder, crushed nuts (pecan, pistachio, almond)
Set a stainless steel bowl over a pan of simmering water or use a double boiler. Melt the chocolate and the coconut oil with the water while stirring until smooth. Remove from heat and stir in your extract and salt of choice.
Transfer chocolate to a shallow bowl or dish and let cool in refrigerator for 1 to 2 hours. Scoop into balls and place on parchment or waxed paper. At this point you can roll the truffles in cocoa powder to coat. When I am using coconut or nuts, I find that I need to warm the truffles by rolling them in my hands to get the coarser toppings to stick.
Makes 18-25 truffles depending on size of scoops. Store in airtight container in refrigerator. Bring to room temperature before serving.
Recipe submitted by Karen, Quincy, CA
Published on December 23, 2013