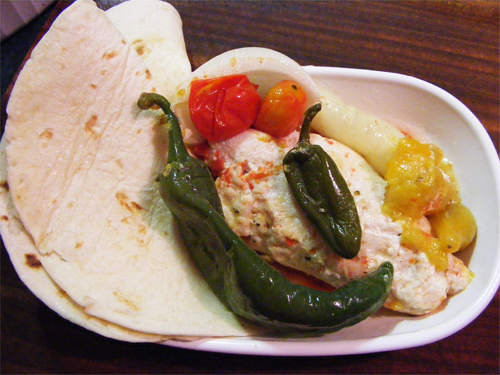 Mexican Style Pepper Chicken
Photo by recipe author
Servings: 4
Preparation time: 12 minutes
2-3 tablespoons organic coconut oil
1/2 -1 cup whole frozen peppers (jalapenos, green chili, Anaheim or banana peppers)
1-2 cups whole frozen small garden tomatoes (cherry, Roma, yellow pear or other tomatoes)
1/2 large onion, cut into chunks
Sea salt, pepper and other seasonings to taste
Grated organic mozzarella cheese or queso fresco (optional)
Tortillas (optional)
Melt coconut oil in a large skillet on medium heat. Add frozen chicken. Cover chicken with vegetables and seasoning, if desired. Spread peppers, tomatoes and onions evenly.
When chicken is done on one side (approximately 20-30 min), turn breast pieces over. Cook another 20-30 minutes until thoroughly done. Vegetables will be very soft.
Serve Mexican style with toasted tortillas. Top with grated cheese, if desired.
Recipe submitted by Dakotah, Winfield, KS
Published on November 2, 2009