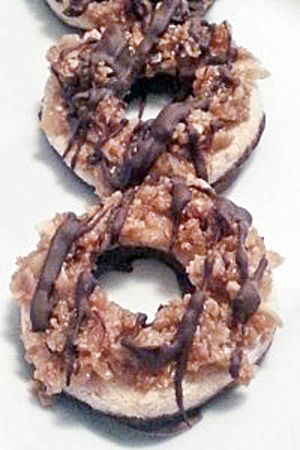 Momma Scout Coconut Cookies
photo by recipe author
Servings: 12
Preparation Time: 1 hour
Cookie:
Chocolate Sauce:

Filling:
In a mixing bowl, combine cookie ingredients and knead until smooth. Roll out between two pieces of parchment paper until about ¼ inch thick. Using a donut cutter, cut out small circular cookies. Re-roll dough and cut until all dough is used.
Bake at 375 °F for 10 minutes or until slightly brown. Let cool about 15 minutes.
Melt chocolate chips and coconut milk in a double boiler. Dip the bottoms of cookies into chocolate sauce and place on a parchment lined baking pan. Chill for about 20 minutes or until chocolate has hardened.
Meanwhile, bring coconut milk, honey and sugar to a boil in a small saucepan. Boil for about 5 minutes or until sugar is dissolved. Remove from heat and stir in coconut flakes. Carefully spoon coconut filling onto cooled cookies. Drizzle with any remaining chocolate sauce and let chill again for about 20 minutes.
*For the freshest coconut milk make homemade coconut milk. (See video at this link.)
Courtney from Columbus, KS won $50 for this recipe and photo! Submit your coconut recipes and photos!
Published on June 10, 2015