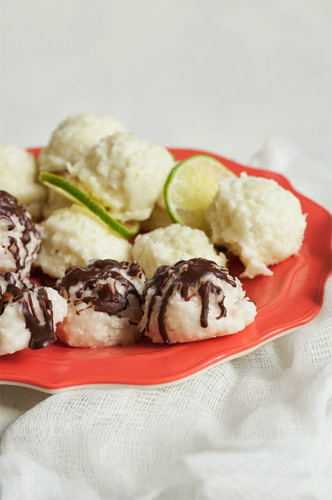 No Bake Almond Macaroons
and Lime Coconut Macaroons Recipe
photo by recipe author
Servings: 18-20
Preparation Time: 20 minutes
For Almond Macaroons (double the ingredients if not making lime version):
For Lime Macaroons (double the ingredients if not making Almond version):
Zest and juice from 1 lime
Line a baking sheet with parchment paper.
In a medium bowl, stir together the coconut, coconut oil, and honey with a fork until fully blended.
If making both flavors, place half of the mixture in a small bowl. Add vanilla extract to one of the bowls and stir. Add lime zest and juice to the other bowl and stir to combine.
Place tablespoon-sized scoops of coconut on the parchment-lined pan and place in the freezer for 5 minutes to harden.
Insert an almond (pointed side first) into the middle of the Almond Joy macaroons.
Melt chocolate over very low heat with the butter and drizzle over the almond macaroons.
Keep refrigerated to prevent melting.
Loretta from Waukesha, WI just won $50 for this recipe and photo!
Submit yours here.
Published on March 21, 2014