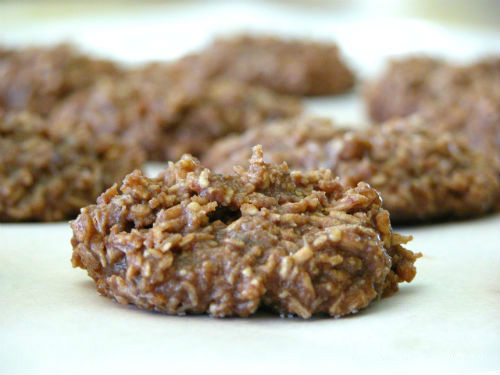 No Bake Chocolate Coconut Drop Cookies Recipe
photo by recipe author
Servings: 10
Preparation Time: 15 minutes
In a medium size saucepan, combine the butter/oil, cocoa, sugar and milk. Bring to a boil, let boil for 1-2 minutes. Remove from heat and add in the almond butter, coconut, vanilla and salt. Stir until combined.
Place spoonfuls of the mixture on parchment lined cookie sheet or plates. Place in the freezer to for 30 minutes to set.
Store in an airtight container in the refrigerator.
* For the freshest coconut milk make homemade coconut milk. (See video at this link.)
Variations
**Any nut or seed butter would work here. You could also try coconut cream concentrate, but I am not sure I would do 3/4 cup, so start with less, the cookies will still turn out. The original recipe calls for peanut butter. Feel free to use it, but I would start with 1/2 cup. Almond butter isn't as pronounced as peanut butter in taste, therefore I used more of it than the original recipe called for (original called for peanut butter).
Recipe submitted by Kate, Highlands Ranch, CO
Published on November 30, 2012