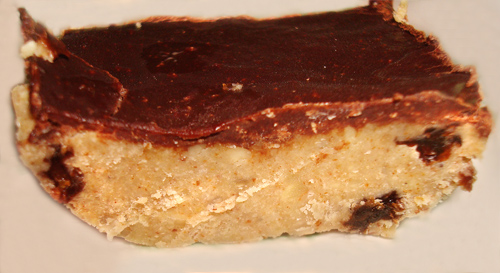 No-Bake Chocolate Coconut Energy Bars
Photo by recipe author
Servings: 16
Preparation Time: 25 minutes
Chocolate Sauce Ingredients:
Grind up 1 cup of sunflower seeds and the cup of pecans in food processor or coffee grinder and pour into bowl. Add coconut oil, coconut flour, honey, raisins, vanilla flavoring, 1/2 cup sunflower seeds and mix all together. Pour into square casserole dish and press mixture down firmly.
Sauce:
In small saucepan, melt 4 tablespoons coconut oil and mix in cocoa and honey until thickened. Pour chocolate sauce on top and sprinkle with shredded coconut. Refrigerate for about 25-35 minutes. Cut up into squares and enjoy!
Recipe submitted by Melinda, Albany, GA
Published on April 30, 2010