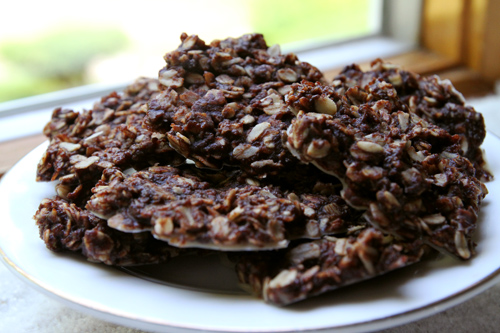 No Bake Chocolate Coconut Oatmeal Cookies
Prepared by Sarah Shilhavy, Photo by Jeremiah Shilhavy
Servings: approximately 24 cookies
Preparation Time: 15 minutes
Combine sugar, cocoa, coconut oil and milk in a saucepan. On medium heat, bring to a boil. Once mixture has reached a rolling boil, boil for exactly 1 minute.
Remove from heat. Stir in peanut butter and oatmeal. Also stir in shredded coconut if using.
Drop by spoonful onto wax paper. Let cool for at least 30 minutes (place in refrigerator after cooled at room temperature for faster firming). The cookies will become more firm as they sit longer.
Makes approximately 24 cookies, depending on size. Store in refrigerator.
Recipe submitted by Cindy, Forreston, IL
Published on June 28, 2010