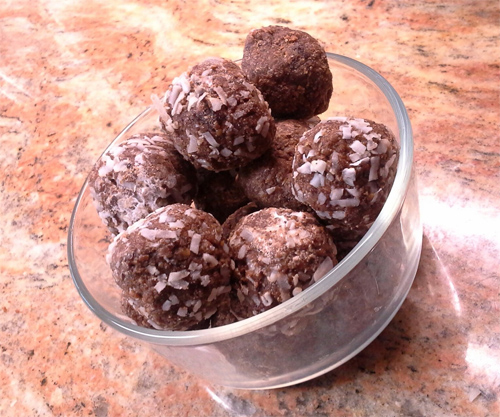 No Bake Chocolaty Coconut Flax Chia Power Balls Recipe
photo by recipe author
Servings: 25
Preparation Time: 30 minutes
2 cups ground, soaked and dried organic raw almonds
1/2 cup raw organic cashews
1/4 cup
Coconut Cream Concentrate
1/3 – 1/2 cup organic virgin
coconut oil

2 tablespoons
honey (add more if you need)
1/4 cup organic raw
cacao powder

1/2 cup organic
coconut flakes

1/2 cup organic raisins
1/4 cup ground organic flax seeds (I use my coffee grinder to make the job easy)
1/8 cup ground organic chia seeds
Optional: more coconut flakes to roll balls in.
In a food processor, process almonds until similar to coarse flour. Add cashews and process some more. Add coconut cream, coconut oil, cacao powder, coconut flakes, raisins, ground flax and chia seeds and honey.
Process until completely mixed and add more coconut oil if it is not moist enough. Form into balls and roll in coconut if desired. Store in refrigerator.
Kimberley from Gersham, OR just won $50 for this recipe and photo!
Submit yours here.
Published on March 3, 2014