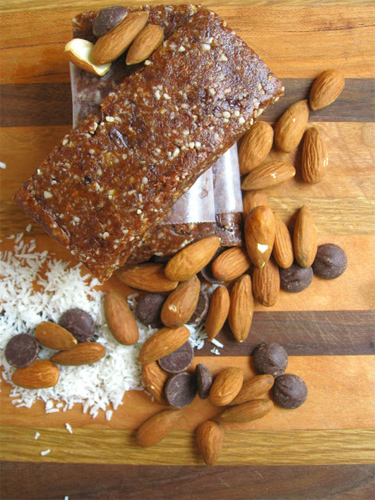 No Bake Coconut Almond Bars Recipe
photo by recipe author
Servings: 8-10
Preparation Time: 10 minutes
Remove stem fragments from the end of your dates if they're still attached and then pull the dates in half using your fingers to remove the pit from the middle. In a large food processor fitted with the metal blade, add almonds, pitted dates, and coconut oil. Process until almonds are finely chopped. This is a semi-violent process, so hold on to your processor!
Continue to add each ingredient, one by one, thoroughly mixing with your processor after each addition. If you mix after the addition of each ingredient, your mixture will slowly begin to come together.
After the addition of chocolate chips, continue to pulse until the mixture begins to stick together in large clumps. It should stay together when you pinch it between your fingers. If it's still crumbly, continue to process and/or add additional coconut oil, a tablespoon at a time until you have the correct consistency.
Line an 8×8-inch pan with parchment or wax paper and press mixture evenly into the pan. They are ready to eat as is, straight out of the pan. If you prefer, remove from the pan using your parchment paper and cut into individual portions and store them in an airtight container in the refrigerator.
Loretta from Waukesha, WI just won $50 for this recipe and photo!
Submit yours here.
Published on March 12, 2014