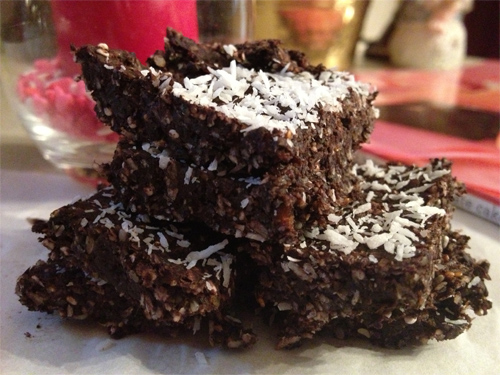 No Bake Coconut Brownie Bites Recipe photo
photo by recipe author
Servings: 16 brownies or 8 bars
Preparation Time: 2 hours, 10 minutes
Soak the dates or figs in a bowl covering them with water for about 1 hour. This will soften them and help the mixing process along.
1. After the dates or figs have soaked, drain them through a colander and place them in a food processor with the blade already in place. You will need the S blade.
2. Add the remaining ingredients and process for about 15-20 seconds until a thick dough forms. It will be very thick and pasty.
3. Remove the dough and place it in an 8″x8″ glass baking dish.
4. Press the mixture down with your hands and press it for several minutes "kneading" it with your fingers to press to the edges. You want to make sure it is completely even. It doesn't have to be quite smooth at this point, just even.
5. Now, take the juice from one lemon and squeeze it on top of the mixture. You will not be able to taste it, but it does enhance the flavor of the chocolate. The acid from the lemon will help smooth everything down and the juice will help to make the smoothing process easier.
6. Take the back of a large spoon and smooth everything down across the top until it has a smooth finish.
7. Sprinkle with additional coconut for garnish if desired.
Place the pan in the fridge so it can chill for one hour, or overnight.
9. When you're ready to cut the brownies, take the pan out of the fridge and cut in 4 strips vertically and then cut 4 more strips the opposite way horizontally.
10. Chill in the fridge for one hour or overnight.
11. When ready to serve, just lift each brownie out of the pan with a fork or spatula.
12. Keeps for one week in the fridge.
Recipe submitted by Heather, Moore, SC
Published on March 8, 2013