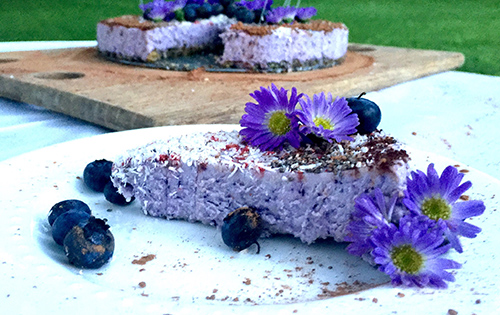 No Bake Dairy and Gluten Free Lemon Blueberry Cheesecake
photo by recipe author
Servings: 8-12
Preparation Time: 20-25 minutes active prep + soaking and wait time
Gluten Free Crust:
1/2 cup diced dried plums, or dates
1 cup walnuts
1/4 cup chia seeds
1/2 cup raw honey
pinch salt
Filling:
1 1/2 cups raw cashews, soaked overnight in water then drained*
4 tablespoons fresh lemon juice
zest from 1 large lemon
6 tablespoons virgin coconut oil, melted
1/2 cup coconut milk**
1/2 cup raw honey
1/2 cup fresh blueberries
Optional Toppings:
dried cranberry powder
fresh blueberries
edible or ornamental flowers
Combine diced dried plums, walnuts and chia seeds in a food processor and pulse until finely chopped. Add the honey and salt and pulse again until a paste forms.
Press crust mixture into a 12 inch springform pan. Place pan in the freezer while you prepare the filling.
Combine all of the filling ingredients in a blender and mix until very smooth. Pour the filling into the crust and cover with plastic wrap then freeze for at least 4 hours, or overnight.
Allow cake to thaw at room temperature for about 10-15 minutes.
Top with dried cranberry powder, shredded coconut, cocoa powder, fresh blueberries, and edible or ornamental flowers.
Dip knife in warm water before slicing for easier serving.
Soaking Cashews:
*If you are making this cake last minute and don't have time to wait, you may let the cashews soak in very hot water for 1 hour instead of overnight.
Homemade Coconut Milk:
**For the freshest coconut milk make homemade coconut milk. (See video at this link.)
Recipe and photograph submitted by Orissa. Submit your coconut recipes and photos here!
Published on June 3, 2016