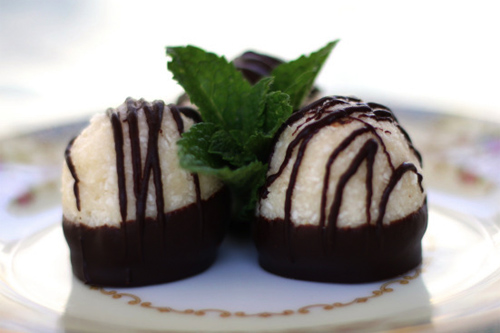 No Bake Dark Chocolate Dipped Coconut Macaroons
photo by recipe author
Servings: 16-18
Preparation Time: 30 minutes
1. Combine coconut, coconut flour, and sea salt in a bowl or food processor. Add coconut oil, honey and vanilla extract. Combine until the "dough" starts to stick together. If it doesn't, add more honey or coconut oil. Give the dough a taste to see which one, if you want your macaroons to be more sweet, add honey! If they taste just right, add coconut oil!
2. Stick your mixture in the freezer for about 5 minutes. In the meantime, melt your chocolate in a double boiler.
3. Prepare a baking sheet with parchment paper. Roll the dough by tablespoon and dip each macaroon in the dark chocolate. When you have prepared all the macaroons, drizzle dark chocolate on the top using a spoon (and a quick wrist – the key to those drizzles is to flick the wrist, not the hand)!
4. Place the baking sheet in the freezer for 5 minutes. Serve or store in the fridge and share with friends
Sarah from Hood River, OR just won $50 for this recipe and photo!
Submit yours here.
Published on May 19, 2014