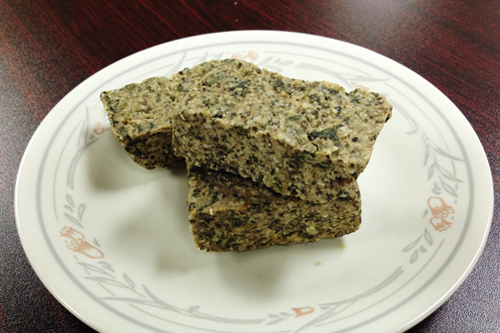 No-Bake Green Snack Bars
photo by recipe author
Servings: 16-32 bars
Preparation Time: 30-40 minutes
Steam greens until bright and tender, about 5-10 minutes. Add cinnamon and stir until it absorbs the steaming water. Let cool a bit.
Finely chop raisins in a food processor until they want to stick together in a big chunk. Add greens to food processor and chop/mix well. Add all other ingredients to food processor and mix well. Alternatively, mix everything in the pan if you don't want the greens chopped up.
Press into 8×8 or 7×11 pan (bars will be thicker in 8×8 pan). Refrigerate until firm. Cut into bars with a sharp knife and freeze some to keep from eating them all in two days.
Kelly from Menomonie, WI just won $50 for this recipe and photo!
Submit yours here.
Published on May 14, 2014