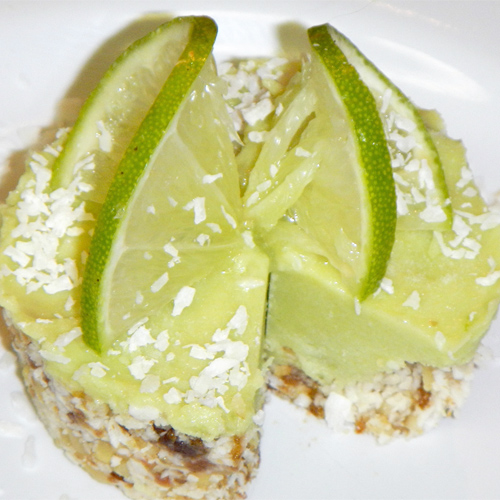 No Bake Key Lime Pie Recipe
photo by recipe author
These mini pies can be kept in the fridge for a couple of days, or in the freezer for weeks. They freeze really well! When they have been stored in the freezer, just be sure to set it out for up to 30 minutes to soften up a bit before serving!
Servings: 6
Preparation Time: 30 minutes
Pie Crust:
1 cup walnuts
2 pinches sea salt
6 medjool dates, pitted
Filling:
1 1/2 cups mashed avocado (3 small)
3/4 cup fresh squeezed lime juice (regular limes or key limes)
1/2 cup honey or maple syrup (or use stevia)
1 pinch sea salt
1/2 cup virgin coconut oil – melted
zest from 1 lime
Pie Crust Directions:
Process all ingredients in a food processor until it can be pinched together and hold.
Push the mixture evenly into the bottom of 6 mini tart pans OR a standard pie pan. Press it firmly and build a crust that climbs the wall of each mold. Put in the freezer for 30 minutes to firm up. Fill with key lime cream from recipe below.
Pie Filling Directions:
Blend everything in a food processor. Taste test and adjust ingredients to your liking. Spoon into pie crust from above. Set in freezer for 30 minutes to 1 hour to firm up.
Recipe submitted by Andrea, Willamina , OR
Published on June 26, 2013