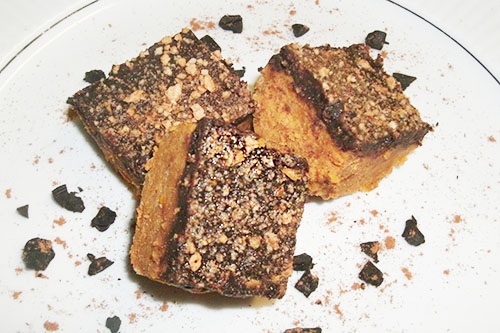 No Bake Pumpkin Truffle Squares
photo by recipe author
Servings: 24
Preparation Time: 20 minutes
Dry:
3/4 cup honey graham crackers, crushed
1 1/2 teaspoons pumpkin spice
1 1/2 teaspoons ginger spice
1 1/2 teaspoons cinnamon spice
3/8 teaspoon pink salt
Moist:
Topping:
Crush graham crackers by hand or by placing them in a plastic bag and using a wooden spoon to beat them into a crumble. You can use a food processor but the consistency/texture will be more fine so you will only need 1/2 cup that way.
Mix the crushed graham crackers with the remaining dry ingredients and combine well.
Scoop out and reserve 1 tablespoon of the dry mixture to use as the final topping and set aside remaining dry mixture.
Mix together all moist ingredients, blending/stirring until smooth and all coconut cream has been well incorporated.
Add the remaining dry mixture to the moist mixture and stir until well incorporated. Pour into an 8×6 dish and smooth with a rubber spatula until evenly distributed. Set aside.
For the topping, place the chocolate and coconut cream concentrate in a double boiler on medium low heat and stir continuously until smooth. Then remove from heat and stir in the vanilla extract until fully incorporated.
Pour the melted chocolate over the pumpkin mixture in the pan and smooth until evenly distributed over the top. Next, evenly sprinkle the reserved graham cracker over top, cover and place in the refrigerator for 1 – 1 1/2 hours or until the chocolate topping is firm.
April from Brandon, FL won $50 for this recipe and photo! Submit your recipes here!
Published on December 19, 2016