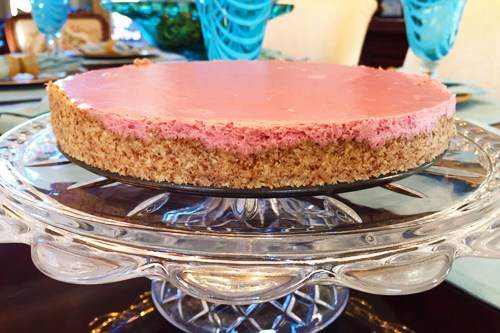 No Bake Strawberry Custard Tart
photo by recipe author
Servings: 12
Preparation Time:  30 minutes
CRUST:
1 cup pecan meal
1 cup cashew meal or almond flour
1/4 cup sugar
1/4 teaspoon salt
1/4 cup melted coconut oil
FILLING:
Optional topping:
Chocolate chips
CRUST:
Mix ingredients in a bowl. Press firmly into a 9-inch springform cheesecake pan (or a deep dish pie plate).  Including about 1 inch up the sides.
FILLING:
Blend all ingredients in a blender until smooth. Pour into cheesecake pan.
Chill for at least 4 hours. Remove from pan and serve.
Optional:  Press chocolate chips into firm custard before removing from pan.
Store in fridge.
Jenny from Hendersonville, TN just won $50 for this recipe and photo! Submit yours here.
Published on February 2, 2015