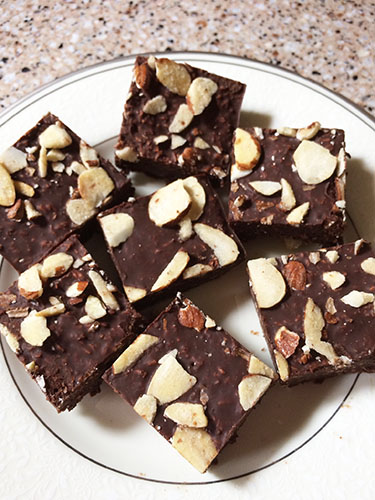 No Bake Toasted Coconut Fudge Bars
photo by recipe author
Servings: 30
Preparation Time: 15 minutes
Preheat oven to 350° F.
Line a 9 x 9 inch pan with parchment paper. Spread shredded coconut on a baking pan lined with parchment and bake for 5-10 minutes until golden brown. Allow to cool.
In a double boiler, melt the chocolate chips and coconut oil, stirring occasionally until smooth, about 5-6 minutes.
Stir the cooled toasted coconut into the chocolate mixture. Remove parchment paper from pan then spread mixture into the baking pan. Sprinkle the almonds on top, if desired.
Place the pan in the refrigerator to cool for several hours or overnight before cutting into small squares. This recipe will stay firm at room temperature.
Carol from Libertyville, IL won $50 for this recipe and photo! Submit your recipes and photos here!
Published on October 26, 2016