Do you like peanut butter?
If the answer is yes, then you probably like peanut butter cookies as well.
And right now, that's a good thing, because I have an amazing recipe for you today.
When I was making this recipe I was expecting something like the normal flourless peanut butter cookies which are rich, buttery, crumbly and crunchy-ish.
When these little guys came out they looked…ugly (blunt, I know). But they smelled good, and after a few minutes of cooling I had had enough of just looking at and smelling them. I grabbed one and sunk my teeth into the warm center, expecting something like the normal flourless PB cookies. Instead, it was chewy. Very *chewy*. The chocolate chips were still warm and soft and the cookie edges were crisp, and it was extremely rich, creamy and buttery. I loved it.
Despite their richness, I couldn't keep my hands off them. The rich, creamy, buttery, ultra chewy, coconutty and peanutbuttery cookies were just too much to resist. You have got to give these a try.
Just don't eat them all yourself.
Sarah:)
No Flour Coconut Peanut Butter Cookies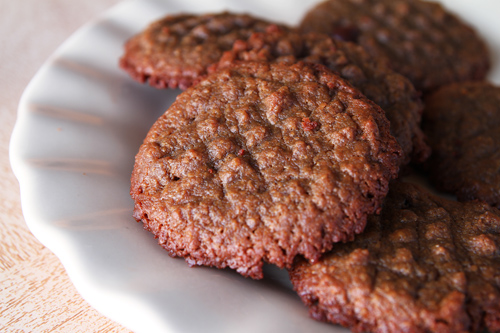 No Flour Coconut Peanut Butter Cookies
Prepared by Sarah Shilhavy, Photo by Jeremiah Shilhavy
Servings: 1 dozen
Preparation Time: 10 min
Pre-heat oven to 350 degrees F.
Mix all ingredients except chocolate chips (if using) together until well blended. Add chocolate chips if desired.
Drop by spoonfuls onto an ungreased cookie sheet and flatten slightly with a fork.
Bake for 10-15 minutes (edges should be a dark, golden brown).
Recipe submitted by Sharla, Nampa, ID
Published on April 16, 2010