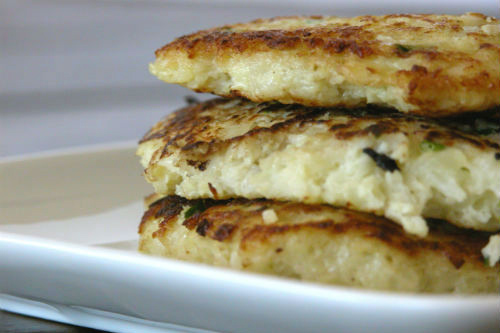 Notato Pancakes Recipe photo
photo by recipe author
Servings: 4
Preparation Time: 15 minutes
1 large head of cauliflower, chopped and steamed
1-2 tablespoons fresh chives, minced
2 eggs
1/2 teaspoons garlic powder
salt and pepper to taste
1-2 tablespoons coconut oil for frying
Pat dry the steamed cauliflower to remove as much moisture as possible.
In a food processor, pulse the cauliflower into tiny pieces. Do not puree it!
In a mixing bowl, whisk the eggs and add the cauliflower, chives, garlic, salt and pepper and stir until combined.
Heat a large skillet over medium high heat and add 1 tablespoon of oil. Once the oil is hot, spoon the mixture into the pan and press down into a pancake shape. Cook until brown and pancake is holding together enough to flip and brown the other side. You may need to add more oil to the pan for the second batch of pancakes.
If your batter seems too running, add a bit of coconut flour if you'd like. I prefer these to be flourless!
Recipe submitted by Kate, Highlands Ranch, CO
Published on October 27, 2012