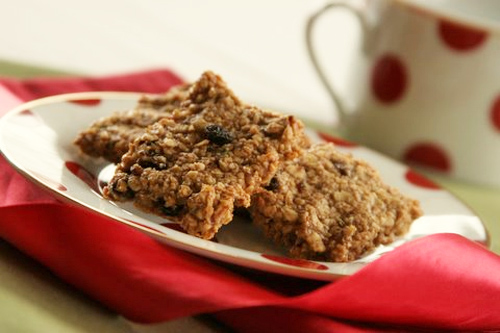 Oatmeal Currant Squares
photo by recipe author
Servings: Makes 16 squares
Preparation Time: 35-45 minutes
Preheat oven to 350 degrees F. Line a baking sheet with parchment paper. In a small bowl, cover dates with hot water. Set aside to soak for 5-10 minutes.
In a food processor fitted with the steel blade, process 1 cup oats, salt, and cinnamon until finely ground–about 20 seconds. Transfer to mixing bowl and stir in remaining 1/2 cup oats. Set aside.
Return food processor to base (no need to wash). Drain off all but 1 tablespoon soaking liquid from the dates. Put dates and 1 tablespoon soaking liquid into food processor along with coconut oil and maple syrup. Pulse until dates are finely chopped. Add egg and process until mixture is smooth and dates are reduced to small brown flecks, about 20 seconds. Stir into oat mixture using a rubber spatula to form a dough. Fold in the dried currants.
On a sheet of parchment paper using wet hands, form dough into a square roughly 8×8 inches in size and about 1/4-inch thick. Carefully cut the square of dough into 16 squares. Transfer squares to parchment-lined baking sheet. (I find that a thin metal or plastic spatula works better than my clumsy fingers to make the transfer.)
Bake for 12-15 minutes or until squares are firm to the touch and golden brown around the edges. Cool completely on pan before removing. (These freeze well.)
Recipe submitted by Hallie, Middleton, WI
Published on March 7, 2011