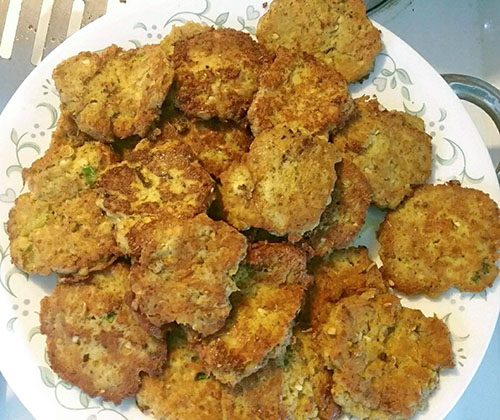 Omega-3 Salmon Patties
photo by recipe author
Servings: 20+ patties
Preparation Time: 30-40 minutes
(1) can wild caught salmon (14.75 ounces)
2 tablespoons minced garlic
(1) stalk scallions, chopped
2 extra large organic eggs
1-2 teaspoons olive oil or coconut oil
half lemon, squeezed
2 tablespoons ground flax
dry herbs and spices of choice
coconut oil for frying
Heat enough coconut oil in a pan for frying, on medium high heat.
Mash salmon on a plate. Mix in the garlic, scallions, eggs, 2 tablespoons olive or coconut oil, lemon juice, flax and herbs and spices of choice.
Scoop salmon balls (I used a cookie scoop) into the pan and flatten with a fork. Fry for 5-7 minutes or until golden brown. Flip and fry until fully cooked.
Transfer onto a plate and serve warm!
Note: Apple cider vinegar-crushed garlic cloves pairs well with this as a dipping sauce!
Myra from Lewiston, ME won $50 for this recipe and photo! Submit your recipes and photos here!
Published on May 15, 2018