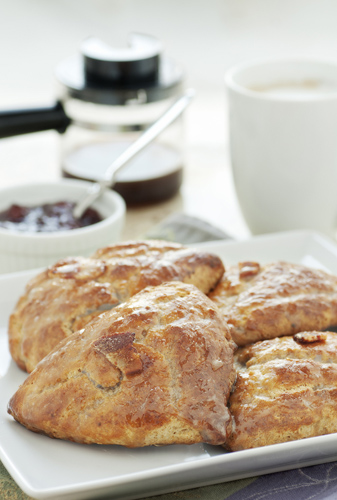 stock photo
1. Stir together the flours, sugar, baking powder, baking soda and salt.
2. Cut the coconut oil into the flour with a pastry blender or fork. Stir in the shredded coconut.
3. In a separate bowl combine milk or coconut milk and orange zest. Pour wet ingredients over the dry ingredients and stir just until moistened.
4. Turn onto a floured surface and knead gently for about 2 minutes.
5. Divide the dough into 2 equal balls and flatten into 7″ circles. Cut into 8 wedges. Transfer the wedges to a baking sheet.
6. Bake at 400 degrees for 17-20 minutes.
Serve warm scones with coconut cream for spreading.
Recipe submitted by Kristel, Traverse, MI
Published on April 12, 2008