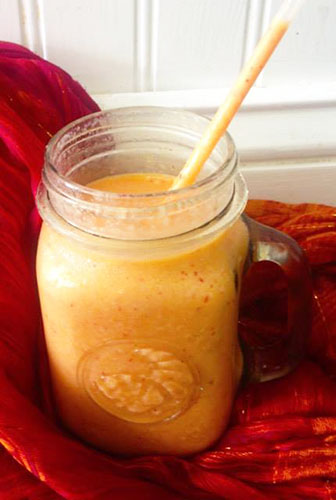 Orange You Glad Smoothie
photo by recipe author
Servings: 1
Preparation Time: 5 minutes
1/2 frozen banana
1/3 cup frozen pineapple
1/2 cup frozen strawberries
2 tablespoons protein powder
1/2-1 teaspoon turmeric powder
1 1/3 cups organic orange juice
1 tablespoon virgin coconut oil
Blend all ingredients together in a high speed blender.
Marijah from Columbia, KY won $50 for this recipe and photo! Submit your recipes and photos here for a chance to be our next featured recipe and win $50!
Featured Product
What is Goat-Milk Protein?
Our Goat-Milk Protein is a premium quality goat-milk protein powder. It is minimally processed from goat milk collected directly from farms to preserve it's original composition. Most other milk protein powders are made from cow milk and use several harsh processing steps including heating at high temperature. Goat-Milk Protein contains all essential amino acids for optimal health and is tolerated well by most people. Goat-Milk Protein is partially predigested (lacto-fermented). This process assists digestion and absorption while providing the body with beneficial probiotics and enzymes.
This is the highest quality goat-milk protein powder available. It is made from goats-milk that contains no antibiotics or growth hormones. Goat-milk Protein is high in amino acids and is a complete protein source. These building blocks of protein are crucial for optimal health. Goat-Milk Protein provides a balanced combination of whey protein and milk protein. Most animal protein supplements (from cows milk) only provide one part of the proteins found in milk. We are convinced that a combination of milk protein and whey protein is superior. Goat-Milk Protein also provides a favorable ratio of potassium to sodium.
Learn more here.
Buy Goat-Milk Protein here!
Published on June 15, 2017