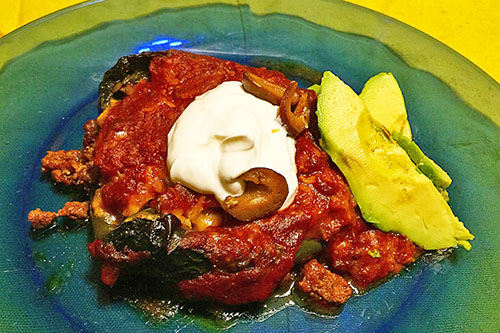 Oven-Roasted Chile Rellenos stuffed with Grass-fed Beef
photo by recipe author
Servings: 7-8
Preparation Time: Approximately 1 hour
Heat oven to 400° F.
Rinse poblano peppers and coat in 2 tablespoons coconut oil. Place in casserole dish (side by side) and place in oven, turning over when outside becomes "roasted" and skin begins to blister. Once both sides are roasted, remove from oven to cool. (Should take about 10-15 minutes per side.)
Meanwhile, cook beef with 1 tablespoon coconut oil, chopped onion, one chopped poblano, and 1 teaspoon cumin powder. Cook until beef is done and onions and peppers are tender.
When baked poblanos are cool enough to touch, slice lengthwise on one side, leaving in casserole dish. Remove the stem and seeds, and scoop out any remaining seeds carefully with a spoon. Stuff each poblano with ground beef mixture, and top with grated cheese.
Using same pan that beef was cooked in, add remaining 2 tablespoons coconut oil and flour, stirring over low-medium heat. Add water, tomato sauce, chili powder, garlic and salt, stirring until chili sauce thickens. Pour sauce over beef and cheese stuffed poblanos. Cook another 15 minutes.
Remove from oven to cool slightly before serving. Garnish with olives, fresh avocados, and sour cream, if desired.
Marijah from Columbia, KY won $50 for this recipe and photo! Submit your recipes and photos here!
Published on January 3, 2017