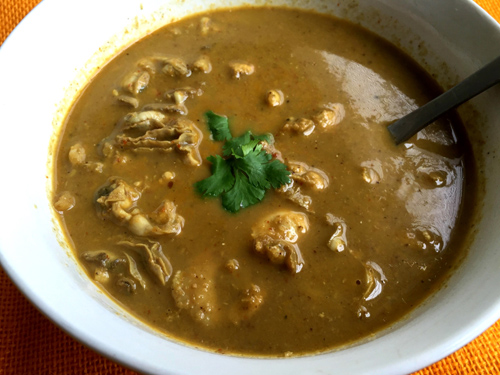 Oyster Curry
photo by recipe author
Servings: 4
Preparation Time: 25 minutes
2 tablespoons olive oil
4-5 dry red chilies
1/2 tablespoon coriander seeds

5-6 peppercorns

5-6 cloves

1 large onion, sliced
2-3 cloves garlic, pressed
1/2 cup dried coconut
1 teaspoon fennel seeds
1 teaspoon turmeric powder
1 marble sized tamarind ball*
1 1/2 cups small oysters
salt to taste
Heat one tablespoon of the olive oil in a skillet and fry all of the dry spices, except fennel seeds, for about a minute or until a nice aroma comes out being careful not to burn the spices.
Add onions and garlic, and the other tablespoon of olive oil then fry on medium-high heat until they change color and become light brown. Adjust heat to low. Add dried coconut and fry until coconut turns brown. Add fennel seeds and turmeric powder and fry for 1 more minute.
Grind all the fried ingredients with tamarind ball and 1/2 cup water to make smooth paste.
Wash the oysters 3-4 times. If you buy big oysters, cut them into halves.
Heat a heavy bottomed vessel, add paste and on low heat let it cook for 5 minutes.
Now add oysters and a little water, mix and let it come to boil.
Reduce heat to low, let simmer for 8-10 minutes.
Add salt and switch off the stove.
Serve with steamed rice.
*Search the internet for a recipe to make Tamarind Balls.
Pooja from Fort Worth, TX won $50 for this recipe and photo! Submit your coconut recipes and photos here!
Published on December 7, 2015