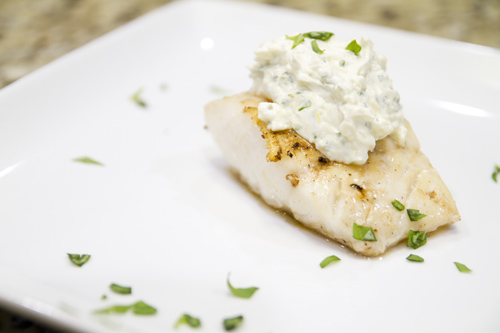 Pan Seared Cod with Garlic & Basil Cream Recipe
Prepared by Sarah Shilhavy
Photo by Jeremiah Shilhavy
Garlic & Basil Cream:
1.5 oz soft goat cheese
3 cloves garlic, minced
1/4 cup basil leaves, finely chopped
1/3 cup freshly grated parmesan cheese
1/4 cup sour cream or crème fraîche
Season cod fillets with salt and pepper on both sides. Set aside while preparing cream.
Mix goat cheese with garlic and basil to break up any large clumps, and add remaining ingredients. Mix well and adjust consistency to taste by adding more or less sour cream or crème fraîche. Set aside.
Heat coconut oil and butter together over high heat in a large skillet. Sear cod over moderately high heat for about 8-10 minutes, turning over once. After turning over, squeeze lime juice over the fillets and continue cooking. Cod should be lightly browned and opaque.
To serve: add a little more lime juice (or serve with lime wedges) if desired, and top with a generous dollop of the cream.
Recipe courtesy Sarah Shilhavy
Published on January 22, 2014