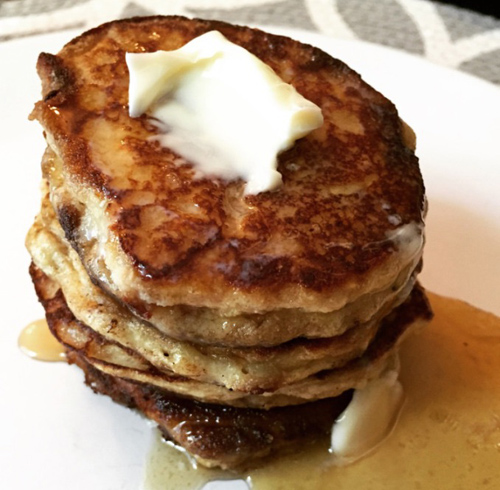 Pancakes made with Coconut Flour
photo by recipe author
Servings: 12
Preparation Time: 15 minutes
4 eggs, room temperature
1 cup whole milk or ¼ cup whole milk and ¾ cup heavy whipping cream
2 teaspoons vanilla extract
1 tablespoon warm honey
½ cup coconut flour
1 teaspoon baking soda
½ teaspoon sea salt
coconut oil for cooking
Beat eggs on high speed until they are frothy (about 3-4 minutes). Add in milk, vanilla and honey.
In a separate bowel whisk together the coconut flour, baking soda and salt.
Add the dry mixture to the wet a little at a time and mix until well incorporated.
Get your skillet just hot enough to sizzle the coconut oil and place about a tablespoon in the pan. Using a tablespoon, make each pancake using about 2 tablespoons of batter.
When you flip the pancake, add another layer of coconut oil underneath, this makes for a crispier pancake.
Serve hot and enjoy!
Andrea from Logan, UT won $50 for this recipe and photo! Submit yours here!
Published on August 5, 2015