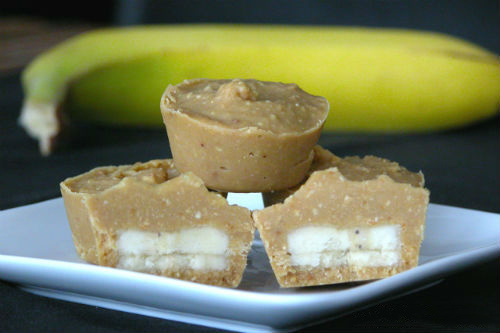 Peanut Butter Banana Cups
photo by recipe author
Servings: about 12 cups
Preparation time: 10 minutes
1 ripe banana
3/4 cup unsweetened peanut butter (I prefer the fresh grind)
2 tablespoons – 1/4 cup honey
3/4 teaspoon vanilla extract
2 1/4 teaspoon coconut oil, melted (refined for no taste, virgin for coconut taste)
1/4 plus 1/8 teaspoon salt (omit if using jarred peanut butter with added salt)
1. Cut the banana into slices between 1/4 and 1/2 inch thick.
2. Mix all remaining ingredients in a separate bowl.
3. Place a bit of the peanut butter mixture to cover the bottom of each cup in a mini muffin tray.
4. Place a banana slice on top of the peanut butter.
5. With a spoon, scoop the peanut mixture unto each banana slice and cover completely.
6. Place in the freezer to set.
7. Store in the fridge or freezer.
Recipe submitted by Kate, Highlands Ranch, CO
Published on March 21, 2012