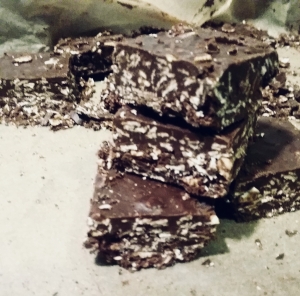 No-Bake Peanut Butter Chocolate Bars
Servings: 45 bars
Preparation Time: 20 minutes
1/4 cup Gold Label Coconut Oil* or Pure Coconut Oil
1 cup organic creamy peanut butter
20 oz chocolate chips or chopped dark chocolate
Dash of salt
1 tablespoon flax seeds
3 tablespoons chia seeds
3 1/2 cups organic old fashioned cups oats
Melt coconut oil on the stovetop over medium heat. Add peanut butter, chocolate, and salt.
Remove from heat and add remaining ingredients. Mix well. Pour into a 9×13 glass pan and spread into bars. Chill in refrigerator until cold – about 10 minutes.
Cut into squares and enjoy!
*Gold Label Coconut Oil will give you a robust punch of a coconut flavor, whereas Pure Coconut Oil will be tasteless. Choose and enjoy!
Myra Turmenne from Lewiston, ME won $50 for this recipe and photo! Submit your recipes and photos here!
Published on January 14, 2019