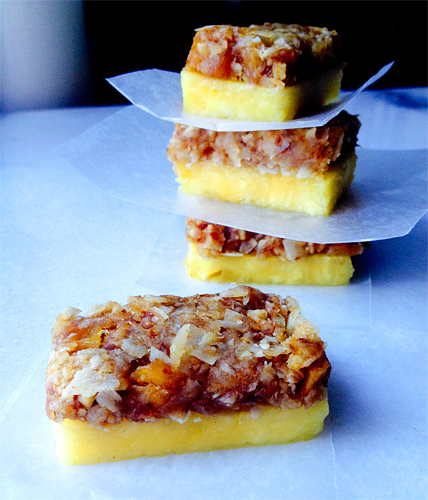 Pina Colada Bars Recipe
photo by recipe author
Servings: 10
Preparation Time: 30 minutes
4 cups filtered water
15 large sun-dried unsulfured organic medjool dates, halved and pitted
2 large, fully ripe organic pineapples
1 1/2 cups whole raw organic cashews, ground to a fine meal
Process coconut in a food processor until roughly chopped. Add to a medium mixing bowl with 2 cups water, stir well and allow to soak for 3 hours at room temperature. Drain in small mesh strainer over a bowl and allow to set in strainer for 9 hours.
Soak dates in 2 cups water for 12 hours at room temperature. Drain dates but reserve soaking liquid.
Finely dice enough of one pineapple to make 3 cups of small-diced pineapple, reserve the rest covered in the refrigerator. Dehydrate pineapple for 3 hours. When done, place in a large bowl covered at room temperature until rest of ingredients are done.
Place dates in a food processor and puree with 1 cup of the reserved date soaking liquid by adding slowly 1/4 cup at a time and blending until smooth. Add the date puree, coconut, and cashew meal in with dehydrated pineapple dices and blend well for 2 minutes by hand with a spatula until well incorporated.
In an ungreased 6×13 pan, evenly spread this mixture to fill the pan end to end and top to bottom. Cover and refrigerate for 12 hours or overnight. Cut into 36 even rectangle bars and dehydrate for 5 hours. Flip the bars over after 3 hours and continue to dry until medium chewy but NOT crispy (yes it is okay to taste test them!)
Core and remove skin from remaining pineapple and slice into 1/2 inch rings. Lay each bar on the slices and cut the pineapple to fit each bar evenly. Gently press the dried bar evenly on top of the pineapple piece that it is cut to, to adhere and set aside. Repeat with all of the bars. Serve and be whisked away to the tropics!
Recipe submitted by Joelle, South Lake Tahoe, CA
Published on December 22, 2013