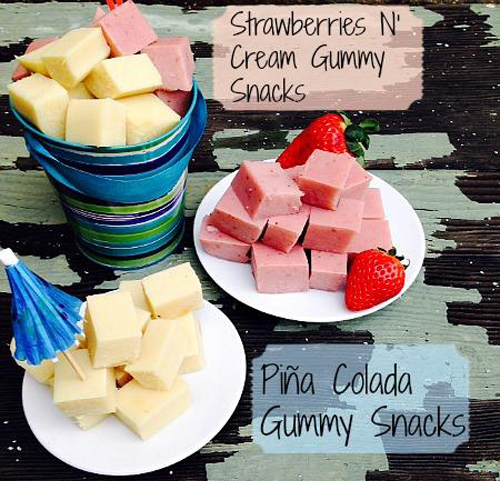 Pina Colada Gummy Snacks
photo by recipe author
Servings: approximately 20
Preparation Time: 15 minutes
14 ounces coconut milk*
1 ½ cups cubed fresh pineapple (thaw first if using frozen)
4 tablespoons grass fed gelatin
4 tablespoons maple syrup
In a blender or food processor, puree coconut milk and pineapple until smooth.
Heat puree in a medium pan to a very low boil. Continue to simmer for about 1 minute. Turn off heat.
Whisk (or use hand held mixer on low) in the maple syrup; then add in gelatin, 1 tablespoon at a time. Continue to whisk (or blend) until gelatin is completely dissolved. Pour into a shallow baking dish.
Place in fridge to set for at least 2 hours.
Once set, cut into squares and serve immediately; or store in an airtight container in fridge to enjoy later.
*For the freshest coconut milk make homemade coconut milk. (See video at this link.)
Missy from Oceanside, CA just won $50 for this recipe and photo!  Submit yours here!
Published on March 9, 2015