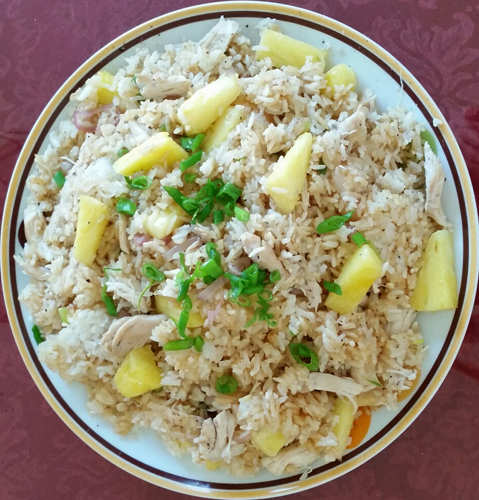 Pineapple Chicken Fried Rice with Coconut Oil
photo by recipe author
Servings: 4
Preparation Time: 20 mins
2 cups uncooked rice
3 pieces chicken tenderloin
salt and pepper
1/4 whole fresh pineapple
2 cloves garlic
1 teaspoon finely minced ginger
1 scallion
2 tablespoons + 3 tablespoons coconut oil
2 teaspoons fermented soy sauce
Cook rice and set aside.
Tenderize chicken with the meat mallet. Season chicken with salt and pepper. Pan sear the chicken until fully cooked through. Rip chicken apart with 2 forks and set aside.
Cut the pineapple into small chunks. Finely mince the garlic and ginger. Chop the scallion.
Heat up a deep skillet or a wok with 2 tablespoons of coconut oil and stir fry the finely minced ginger and garlic with the chopped scallions and pineapple for 2 minutes. Before you take out pineapple add 2 teaspoons of fermented soy sauce and mix well. Put all the pineapple in a separate bowl and set aside.
Heat up the pan again with 3 tablespoons of coconut oil. Put in the rice, pineapple and chicken. Stir fry until well mixed, season with salt to taste and serve.
Amy from Brooklyn, New York won $50 for this recipe and photo! Submit your coconut recipes here!
Published on June 8, 2015