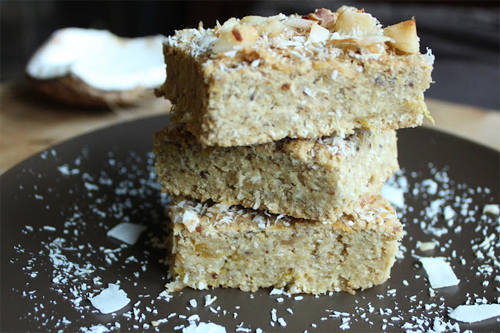 Pineapple, Mango and Coconut Tropical Bars Recipe
photo by recipe author
Servings: 12
Preparation Time: 60 minutes
For the cake:
For the topping:
Preheat oven to 350 F.
Put quinoa flakes in a food processor or blender. Puree slightly. I like to leave some chunks and not blend into a fine flour. I find it gives the cake more texture.
In a large bowl, combine the quinoa flakes, flours, baking powder, baking soda and sugar.
In the same food processor or blender, combine the pineapple and mango, and blend until smooth.
Add the pineapple and mango, along with the flax egg, applesauce, water, coconut extract and shredded coconut to the flour mixture. Mix until just combined.
Pour the mixture into an 8×8 lightly greased or sprayed baking pan. Smooth the top.
Sprinkle all the topping ingredients on top.
Bake for 40-45 minutes, or until edges become slightly brown and the coconut is toasted on top.
Allow to cool for at least 30 minutes. Cut into 12 square bars.
Recipe submitted by Shelby, Orangevale, CA
Published on August 6, 2012