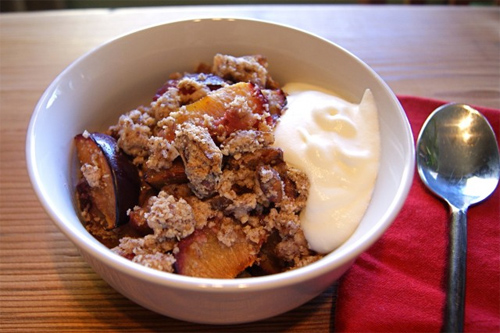 Plum and Ginger Crisp Recipe
photo by recipe author
Servings: 8
Preparation Time: 45 minutes
Preheat the oven to 375 degrees F. Grease an 6 by 10 inch baking pan to coat (you can use an 8 by 8, if you prefer).
In a small mixing bowl, stir together the almond flour, flaked coconut, cinnamon, salt, and honey. Stir in the melted coconut oil until incorporated, and then stir in the pecans.
Spread the sliced plums in the prepared baking dish, and drizzle with the cream and vanilla. Sprinkle the chopped, crystallized ginger evenly over the top, and then spoon the topping over the plums.
Bake for 35 minutes, or until the plums are bubbly and the topping is lightly browned. Serve warm, with softly whipped cream, if desired.
Recipe submitted by Angela, Longmont, CO
Published on January 30, 2013