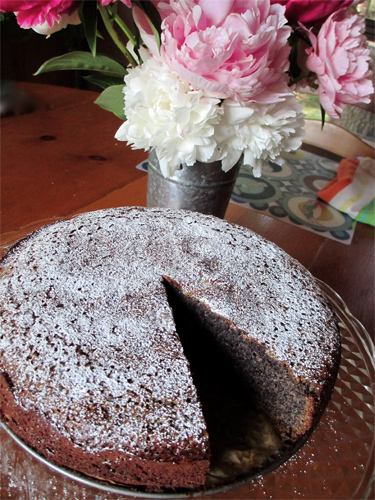 Poppy Seed Torte (Grain-free)
photo by recipe author
Servings: 10
Preparation Time: 15 minutes
Recipe: 1. Preheat the oven to 300 degrees ºF. Grease a 9-inch springform pan and line the bottom with parchment paper.
2. Using a coffee or spice grinder, grind the poppy seeds in batches for about 25 seconds. (The seeds will become slightly sticky.) Combine with the baking powder in a large bowl.
3. In a saucepan over low heat, melt the butter, coconut cream concentrate, and honey together. Set aside to cool.
4. In a mixer fitted with a paddle, beat the egg yolks until slightly thickened. Add the sugar and vanilla. Slowly pour in the melted butter, honey, and coconut cream concentrate. Now add the poppy-seed mixture. Beat until well combined. Return the batter to the large bowl.
5. Clean mixer bowl and use a whisk attachment to beat the egg whites until they form soft peaks. Fold them gently into the batter until well combined and pour into the prepared pan. Bake for 45 to 50 minutes until top has set. Cool on a wire rack for at least an hour before unmolding. Dust with powdered sugar before serving.
Karen from Quincy, CA just won $50 for this recipe and photo!
Submit yours
here.
Published on June 13, 2014