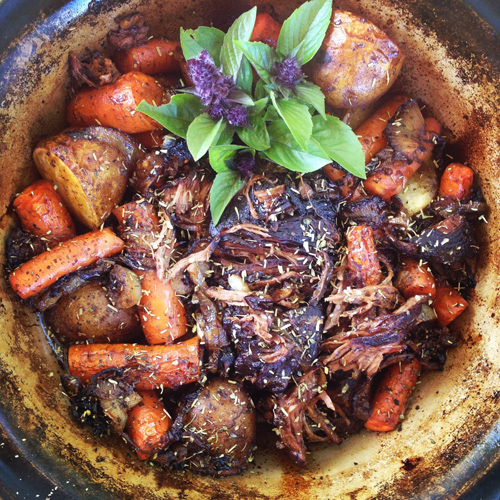 Pot Roast with Caramelized Onions
photo by recipe author
Servings: 6
Preparation Time: 3-3 1/2 hours
3 tablespoons Tropical Traditions Gold Label Virgin Coconut Oil
1 grass fed beef roast, approximately 2 pounds
4 medium potatoes, halved

5 large carrots, ends cut off and chopped in half

3 medium onions

2 cloves garlic, pressed

1 tablespoon Italian seasoning (rosemary, basil, thyme, oregano, marjoram)

3 tablespoons sea salt

2 teaspoons black pepper

1/4 teaspoon cayenne pepper

1 cup homemade beef broth, chicken broth, or water

2 teaspoons

Tropical Traditions Coconut Cream Concentrate
Preheat oven to 350° F.
Melt coconut oil in a medium sized pan over high heat. Sear roast on all sides. Remove roast and place in large oven safe crock along with potatoes and carrots.
Add onions to the pan and reduce heat to medium, cooking until softened and golden, 5 to 7 minutes. Add pressed garlic, Italian seasoning, sea salt, black pepper, and cayenne pepper, cook for 1 minute.
Pour broth and 2 teaspoons coconut cream concentrate in pan and stir, scraping the bottom to deglaze.
Add contents of pan to crock with roast. Place in oven and cook covered for approximately 2 1/2 hours, until fork tender.
Marijah from Columbia, KY won $50 for this recipe and photo! Submit your coconut recipes and photos here!
Published on October 30, 2015