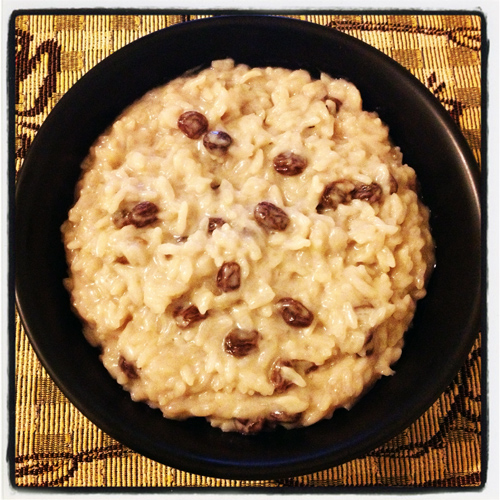 Puerto Rican Style Rice Pudding Recipe
photo by recipe author
Servings: 10
Preparation Time: 3 hours
1 1/2 cups of organic short-grain rice
1 teaspoon organic whole cloves
2-3 organic cinnamon sticks
5 – 2 inch pieces organic fresh ginger root
4 cups water
16 oz. of organic coconut cream concentrate
1/2 cup organic California raisins
13-14 oz. organic coconut milk*
1. Wash rice and soak in water to cover for 2 hours.
2. Add spices (cloves, cinnamon, peeled & cut ginger) to a large pot with 3 cups of water and bring to a boil. Simmer 15-20 min. Remove spices from pot.
3. Add 1 cup of water, drained rice, coconut cream concentrate and raisins and cook over low heat for 15-20 min. or until most of the liquid is absorbed, without stirring.
4. Add coconut milk and cook 20-30 min over low heat. Continue to stir the rice every 10 minutes or so to keep it from sticking to the bottom of the pot.
5. Spoon rice into a flat serving platter or individual containers and allow to cool at room temperature. Sprinkle ground cinnamon on top. Serve it warm or cold.
* For the freshest coconut milk make homemade coconut milk. (See video at this link.)
Recipe submitted by Ibelisse, Chicago, IL
Published on March 20, 2013