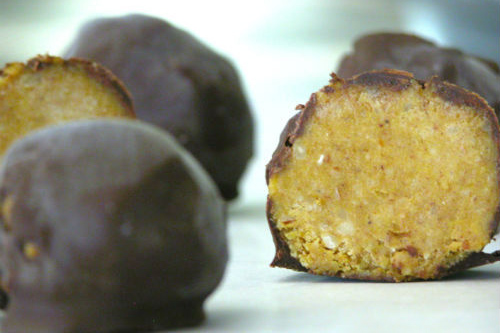 Pumpkin Butter Truffles Recipe
photo by recipe author
Servings: 8
Preparation Time: 15 minutes
1/2 cup pumpkin puree
1/2 cup almond butter*
2-3 tablespoons maple syrup
1 tablespoon coconut oil
1/4 cup vanilla protein powder (optional, add 1/4 cup more flour to replace)
1/2 cup almond flour
1 tablespoon lucuma powder (optional, adds maple flavor)
3/4-1 teaspoon pumpkin spice
1/4 teaspoon cinnamon
dash or two of salt (omit if using salted nut butter)
Chocolate:
Combine the pumpkin, almond butter, syrup and oil in a bowl.
In a different mixing bowl, combine the flour, protein powder, lucuma, spices and salt
Add the wet to the dry and mix well. Place the mixture in the freezer for a couple hours until it has hardened a bit and can be formed into balls.
Once mixture is hard enough to handle, form inch in diameter size balls and place them on a cookie sheet or plate lined with parchment and place back in the freezer for 30 minutes.
While those are in the freezer, add the chocolate chips and cacao butter/oil to a small mixing bowl that has been placed over a small pan of boiling water. This is to get the chocolate to melt without burning it. Once water is boiling, turn down to a simmer.
With a spoon or a toothpick, place each ball into the chocolate and coat. Return each truffle back to the parchment paper and put back in the freezer to let the chocolate set, about 15 minutes
Store in the refrigerator or freezer.
Quick notes:
*Any nut or seed butter would work here. Coconut Cream Concentrate would be an option as well.
Recipe submitted by Kate, Highlands Ranch, CO
Published on November 14, 2012