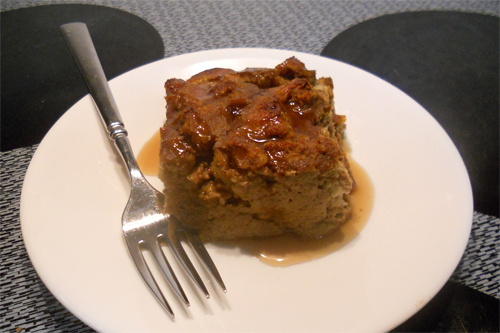 Pumpkin Coconut Bread Pudding Recipe
photo by recipe author
Servings: 6-8
Preparation Time: 20 minutes
Place the torn/cubed bread into a well-greased 8×8 baking dish.
In a bowl, whisk the eggs till well blended. Add remaining ingredients and whisk till all is combined very well.
Pour the pumpkin mixture evenly over the bread cubes. Use a spatula to gently press down any bread that was not covered in the pumpkin mixture. Let the pudding sit for 30-60 minutes before baking at 375 degrees for 40-45 minutes or till done.
Serve with a drizzle of pure maple syrup. Enjoy!
Notes: If you decide not to use the maple syrup drizzle, you may want to increase the sugar by 2 tablespoons.
Recipe submitted by Marie, Jacksonville, FL
Published on November 19, 2012