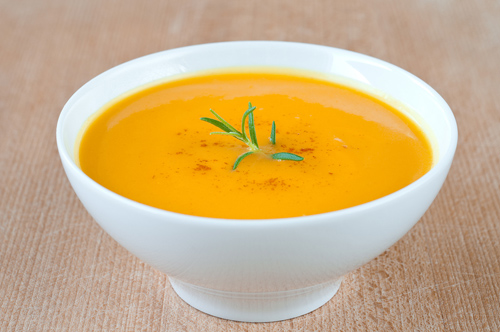 stock photo
1 small shallot or ¼ onion, diced finely
2 tablespoons virgin coconut oil
1 15 oz can pumpkin (not pumpkin pie mix)
30 ounces water (fill pumpkin can twice to measure, conveniently)
¼ teaspoon cardamom
¼ teaspoon turmeric
½ teaspoon nutmeg
1 tablespoon fresh grated ginger (more or less- to taste)
5 tablespoons coconut cream concentrate
salt and freshly ground pepper, to taste
¾ cup cashew cream (recipe follows)
1 tablespoon raw honey
In a medium stock pot or large saucepan sauté shallot or onion in coconut oil until soft. Add pumpkin and water and stir to combine. Add spices, coconut cream concentrate, salt and pepper and let simmer 10 minutes on medium low heat.
Stir in cashew cream and agave or honey and blend well. Simmer another 10 minutes. Adjust seasonings and spices as desired. Add more coconut cream if desired and mix in well. Serve and enjoy!
Cashew Cream:
Place everything in a blender until a thick creamy mixture forms and it is nice and smooth- if necessary add more water a teaspoon at a time until it is the consistency of whipped cream
Note:
Any remaining cashew cream can be used as a desert topping by adding a bit of agave syrup and vanilla extract…and the addition of some coconut cream concentrate will make it an even more special treat as a topping or all alone.
Recipe submitted by Donna, Castleton, NY
Published on November 23, 2008