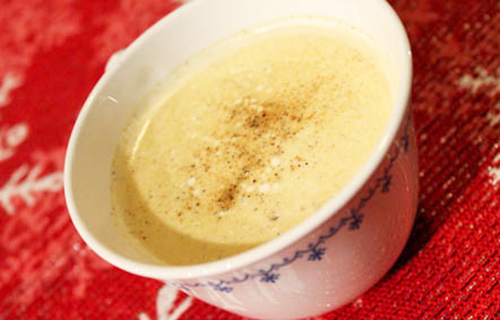 Pumpkin & Coconut Nog
photo by recipe author
Servings: 2
Preparation Time: 10 minutes
2 cups coconut milk*
1 banana, peeled (frozen works best but not required)
¼ cup pumpkin puree
1 teaspoon cinnamon
¼ teaspoon nutmeg
¼ teaspoon allspice
dash salt
½ teaspoon vanilla
¼ cup maple syrup
ice, optional
In a blender, combine all ingredients. Puree until mixture is smooth and pour into glasses.
Alternatively, you can serve the nog warm.
Note: Banana isn't required but does add some sweetness and creaminess.
Courtney from Weir, KS won $50 for this recipe and photo! Submit your recipes and photos here!
Featured Product
Farmer's Market has the perfect growing conditions in Oregon for pumpkin with brilliant color and gourmet flavor. It's perfect for daily use in soups, breads, muffins, pancakes, cookies, stews, side dishes, and biscuits—adding fiber, nutrition and richness.
Packaged in tetra pak boxes. No cans, no BPA!
"Healthy Traditions has tested Farmer's Market pumpkin puree for the presence of glyphosate. Due to a traceable path back to the producers, we believe we can offer this product confidently to our customers by testing it once a year after harvest."
Buy it now here!
Published on December 7, 2017