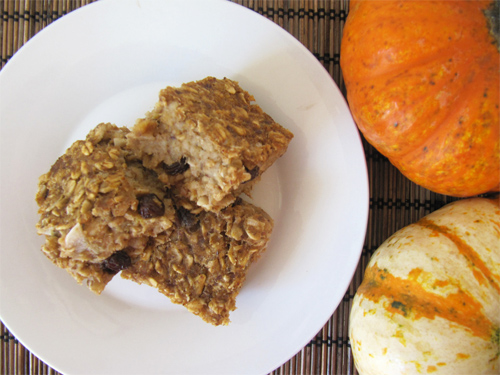 Pumpkin Coconut Oatmeal Bars
photo by recipe author
Servings: 24 bars
Preparation Time: 10 minutes
4 1/2 cups pumpkin puree
5 cups old fashioned/rolled oats (not the quick cooking kind)
3/4 cup milk soured with 1 tbsp. lemon juice
1/4 cup ground flaxseed
1/2 cup real (grade A or B) maple syrup
2 tablespoons pumpkin pie spice
2 tablespoons coconut oil
1/2 cup unsweetened coconut flakes
3/4 cup dates, raisins, dried cranberries or any other dried fruit you wish (chopped)
3/4 cup chopped nuts (unsalted)
1. Preheat oven to 350 degrees. Prepare a 9?x13? glass baking dish by lightly coating with coconut oil.
2. Add all ingredients together and mix well. Press into baking dish.
3. Bake for 40 – 45minutes or until top is golden brown. Remove from heat and let cool. Cut into squares.
Recipe submitted by Kristen, Mattapoisett, MA
Published on March 2, 2012