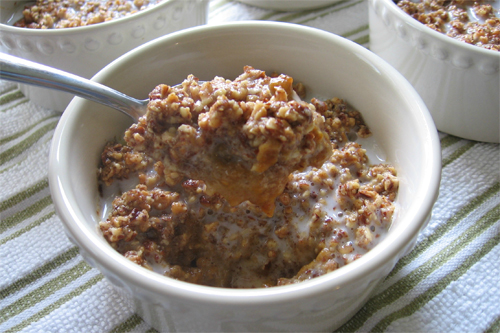 Pumpkin Crunch Casserole or Breakfast Pudding Recipe
photo by recipe author
Servings: 6
Preparation Time: 45 minutes
Preheat oven to 350 degrees F.
Soak chia seeds in water for about 15 minutes, stirring occasionally. Use coconut oil to coat the inside of 6 8-ounce ramekins. In medium bowl mix soaked chia seeds, pumpkin puree, pumpkin pie spice, sugar, and vanilla. Take a tiny taste and add stevia if you want a little more sweetness. After everything is well incorporated, divide pumpkin mixture evenly among the 6 ramekins.
In small bowl mix ground almonds, cinnamon and coconut cream concentrate. Sprinkle evenly over the pumpkin mix.
Bake for 25 minutes at 350 using a water bath method. When almonds are starting to brown, remove from oven and pour coconut milk over top. Serve warm or cold.
* For the freshest coconut milk make homemade coconut milk. (See video at this link.)
Recipe submitted by Joanne, Delmar, DE
Published on October 31, 2012